Project Sol-37 - All Wheel Drive CRX del Sol
Suspension
The front knuckle assemblies are stock components from a '95 Honda del Sol VTEC with Skunk2 style camber adustable upper arms. The rear trailing arms are hybrid '93 Civic and '89 Civic Wagon arms welded together. The rear crossmember had to be relocated about an inch farther back due to the mounting points for the lower control arm on the Wagon trailing arms. '98 Acura Integra Type R rear control arms were used as well as shortened turnbuckle-style camber adjustable rear upper links.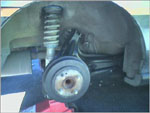 Currently the Sol is fitted with Cusco's Zero2 coilover system designed for the Acura Integra Type R of the late '90s, no front anti-roll bar and a 24mm rear anti-roll bar. Alignment has been set to stock del Sol specifications. This setup makes for abundant off-throttle oversteer. The Sol's characteristics can easily be changed to a very neutral and grippy ride by using the stock 23mm front anti-roll bar and the stock 17mm rear anti-roll bar. Both these set-ups work very well on pavement, however the Cusco coilovers don't have enough travel to be used on anything but pavement.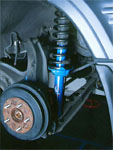 One of the benifits of using Integra Type R rear lower control arms is that the CRV uses a very similar design. This means that stock replacement CRV struts can be fitted to the Sol. Fitting CRV struts to the Sol yields greater droop. This is because The CRV's higher stance and off-road capabilities require a relatively long strut, as seen in the image to the right, when compaired to that of a standard Civic, seen in the image above.